In August 2004, 5 men from different walks of life came to live at Worth for forty days. Here one of the men, Tony Burke, gives an account of what his time at Worth represented to him and the shape it took.
Chapter One
I arrived at Worth without a clue. That's to say, without a clue as to what I was expecting. Later on, it became obvious that I was without a clue in other areas of my life up to this very significant point.
Monasteries are dark, damp and oppressive places. Monks are grey, humourless weirdos who don't say very much and wear black dresses. Yes?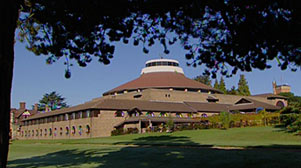 Not really. My first impression of Worth was its modernity. On my first glimpse of the church, I thought I'd come to the wrong place. It looked more like air traffic control just up the road at Gatwick, than a place of worship.
So walking through the gates and down towards the church, with a TV camera shoved in my face, my mind was doing somersaults as already some of my rather dusty, white-haired pre-conceptions were being replaced with the reality of a modern monastery.
It was a lot to take in. I was faced with the prospect of six weeks in this place. Bearing in mind I'd only been told where I was going an hour beforehand on the train from London.
My religious background is simple. I haven't got one.
Apart from school concerts, weddings and funerals and the occasional drunken teenage trip to midnight mass, I'd had no exposure to organised religion, let alone serious I'm-dedicating-my-life-to-God-and-I'm-going-to-wear-a-black-dress-while- I'm-doing-it religion.
I knew nothing of Roman Catholicism (other than it being seen as

slightly controversial, a bit rock 'n' roll and it involving The Pope) and knew even less about Benedictine traditions or any others for that matter.
So I arrived and was instantly introduced to my four co-participants in this television programme-making process. I also met my first monk, Father Luke.
Luke had the look I'd been expecting. Quite severe. Quite pale. Stoic. However, he came armed with a wonderfully warm sense of humour and a genuine kindness and goodwill which I'd rarely experienced in a man before.
Another misconception had been laid to rest.
Soon I was introduced to every monk at Worth, and whether they'd been a monk for five years or fifty years, they shared this communal good nature and love. And that in turn set me instantly at ease and feeling secure in my new somewhat bizarre surroundings.
22 very different men, all with a common objective and a single focus within a fully functioning community.
I was a big fan of this straight away. Who doesn't want to spend time with lovely people? Who wouldn't want to live in a safe, protected environment where people live in harmony, loving, respecting and supporting each other through life?